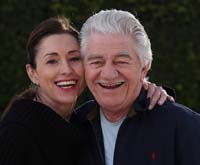 Susan Rodgers produced her first half hour, short film, "Love for $17.50" that premiered at The American Cinemateque.  The film was based on legendary LA author Charles Bukowski's short story under the same title.  Next she produced a documentary film on the history of American independent cinema for the LA Independent Film Festival ( the now LA Film Festival).  Soon after Susan produced her first feature film, "Grownups", starring John Stamos (TV's "Full House") and Daniel London ("A.I.").
Susan now has more than 16 features under her belt, including the critically acclaimed psychological thriller, "Dahmer", which was nominated for three "Independent Spirit Awards". It was also nominated "best picture under a half million (dollars)" and went on to gross well over five million dollars in profits!  Susan recently produced "Day on Fire", starring Academy Award winning actress Olympia Dukakis and Martin Donovan. It premiered at this year's prestigious Toronto International Film Festival. Susan also co-produced the soon to be released, much anticipated, comic book turned live action film, "El Muerto", starring Wilmer Valderrama, Tony Plana and Maria Conchita Alonso.
Susan has worked with some of the finest film sales organizations and the last 9 out of 10 films she produced not only got distribution but turned healthy profits. Susan's track record speaks for itself and coming on board the "Reach For Me" team insures investors a cushion of comfort.