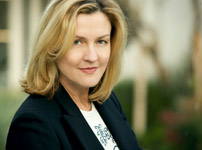 As an honor roll student from the island of Maui, Charlene went on to receive a dual B.A. degree in Television Production and in French from the University of Santa Clara, CA. Charlene's documentary thesis 'The Homeless; America's Hidden Tragedy' was made noteworthy when '60 Minutes' used it as a resource for one of their featured subjects on the same topic. Charlene went on to land jobs with both Blair TV and Group W TV Advertising Sales, respectively. But her creative calling led her to freelance, producing specialty programs for a variety of clients such as KHNL-Channel 13 in Honolulu, Cosmetics-for-Less and for Vector Enterprises.
In 1993, Charlene was chosen to help launch a start-up cable/satellite channel, NETWORK ONE. Brought on as Director of Production, she quickly moved up to Vice President of Production. Char's 'guerilla' producing style came in handy having to create 52 hours of original/alternative programming, commercials, infomercials, exercise programs, interstitial filler, countless promos. Charlene directed and hosted a 13 episode Travel The World Series, and was on the original design team that created the first-ever, truly interactive, call-in-to-vote, music video request show, Music On Demand, which was syndicated and still in on air today.
Charlene branched out to form her own company, AMediaVision Productions, Inc. in 2000 where she specializes in acquiring story rights, research, and script writing. Charlene is developing and producing dozens of A-level, true-life, inspirational stories. Currently in production for Lifetime is TAKEN IN BROAD DAYLIGHT: The Kidnapping of Anne Sluti;-
Other projects on the slate are COYOTES: A Journalist exposes the dangers that illegals face trying to find work and dignity by crossing with ruthless 'coyotes' into the U.S.; RAZI'S CROSSING: An American student's fight for survival during the overthrow of Iran, as well as GIFTS FROM EYKIS: a sci-fi/adventure, love story adapted from world renowned inspirational speaker, Dr. Wayne Dyer's best-selling novel about the power of possibility.
Charlene recently produced two feature films, OTIS E, starring Kevin Durand and Marina Sirtis, and the highly respected REACH FOR ME, starring Oscar nominees Seymour Cassel and Alfre Woodard. Charlene is currently active in managing several international distribution contracts and is growing the distribution division of AMediaVision Productions.
For more information and a list of other projects in development see here.
For Charlene's acting credits search Charlene Blaine on IMDB.com.